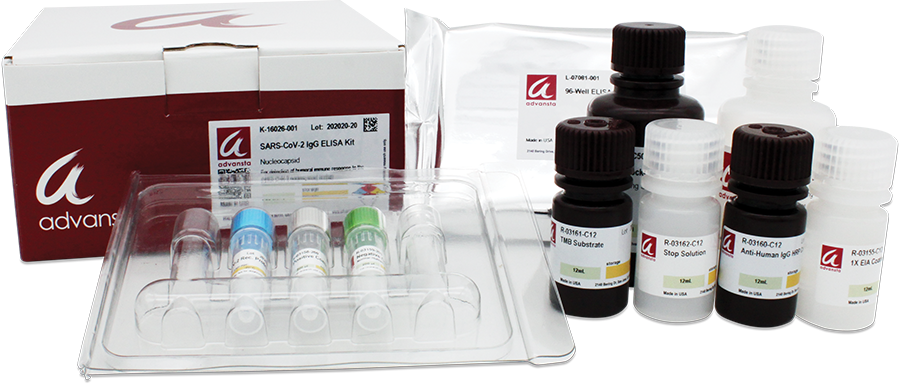 SARS-CoV-2 Proteins and Kits
In December of 2019, the SARS-CoV-2 virus, which causes the disease COVID-19, was first detected in Wuhan, China. The SARS-CoV-2 virus is a single-stranded RNA coronavirus that causes respiratory infections. The rapid spread of COVID-19 has resulted in a global pandemic which has caused an unprecedented social and economic disruption to daily life.
To aid in the advancement of infectious disease research, Advansta now offers recombinant forms of the Nucleocapsid and Spike Receptor Binding Domain (RBD) proteins encoded by the virus as well as ELISA kits to detect the IgG immune response to both the Nucleocapsid and Spike (RBD) proteins. Each protein is expressed in Escherichia coli or CHO K1 cells and affinity purified. The ELISA assays are designed for the qualitative measurement of human IgG, immunoglobulin that is produced in response to an antigen, against the Nucleocapsid or Spike (RBD) proteins from the SARS-CoV-2 virus. Each ELISA kit contains a high binding ELISA plate, a recombinant SARS-CoV-2 protein, Positive and Negative Control Serum, 1X EIA Coating Buffer, AdvanBlock-EIA, Anti-Human IgG HRP Conjugate, TMB Substrate and Stop Solution sufficient to perform one 96-well colorimetric ELISA assay.